Alaska Airlines has pledged $1.5 million to support job training at Seattle-Tacoma International Airport.


Alaska's grant will help Port Jobs expand access to college courses through Airport University, effectively doubling the number of courses, college credits and students. The grant will also enable Port Jobs to add more advanced courses than currently offered.


College credit-bearing classes offered through Port Jobs' Airport University include Keyboarding, 10-Key Mastery, Introduction to Microsoft Excel and Access, and International Trade, Transportation, Logistics, Air Cargo and Documentation.


Alaska Airlines has been involved with Port Jobs since its inception in 1993, with several key executives serving on its board of directors. Over the duration of the jobs training grant, Alaska expects to fill 2,000 family-wage jobs in the Seattle market, and will work closely with the Port of Seattle and Port Jobs to prioritize hiring graduates of the program.


"As one of the largest employers at Sea-Tac Airport, we believe it's important to invest in a strong local work force for the future of our business, our regional economy and the many families who rely on jobs at the port," said Toby Skey, managing director of Alaska Airlines' human resources and four-year board member with Port Jobs.


"This grant marks an unprecedented corporate contribution to Port Jobs and job training at the Port of Seattle," Port Jobs Executive Director Heather Worthley said. "We're encouraged to see this kind of investment in the many families who rely on airport-related jobs and we look forward to providing even more opportunities for the communities we serve."


If you are interested in learning more about on-site educational opportunities available through Airport University, contact 206-787-7504, This e-mail address is being protected from spambots. You need JavaScript enabled to view it .
Two afternoons a week, in a classroom overlooking Sea-Tac Airport's Central Terminal, airport workers take time out of their busy days to learn about our region's role in the international trade, transportation, and logistics (ITTL) industry. The 3 credit college class, International Trade, Transportation, Logistics, Air Cargo and Documentation, is offered through Airport University, a program of Port Jobs, in conjunction with Highline Community College.

Student, Connie A. (front row, red vest), works as an airport Mobility Assistant helping disabled passengers get to and from their planes. Many Mobility Assistants have college degrees that are not recognized in the United States. Connie, for example, earned her B.S. in Business Administration in the Philippines. Connie sees the class as a stepping stone to finishing her U.S. degree and becoming an accountant. In addition to school and her job, Connie also volunteers in the airport as a customer service agent.

The ITTL course is one of several offered by Airport University with the goal of enhancing career pathways for airport employees. This unique program transforms the airport workplace into a college providing industry-specific, credit-bearing courses with locations and times that fit student and employer needs.Spring quarter classes offered by Airport University include are listed below. For more information, contact Airport University at 206‐787‐6152.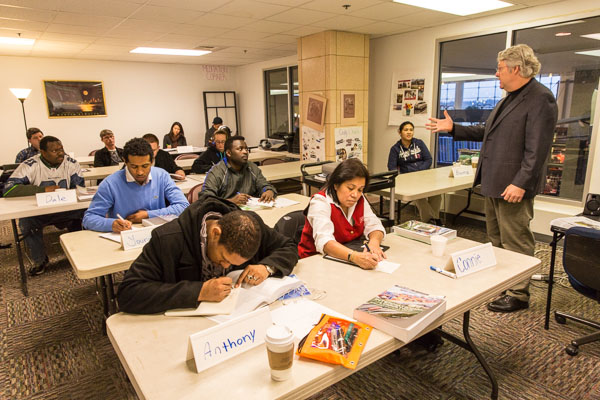 Airport University Spring Quarter 2014 Classes
Keyboarding – Build typing skills; increase speed and accuracy (1‐2 credits)
10‐Key Mastery – Learn to use a 10‐key number pad; increase speed and accuracy (2 credits)
Microsoft Excel and Access – Learn the basic features of Excel spreadsheets and Access databases (1‐2 credits)
March 31 – June 9 | Mondays & Wednesdays | 2:00 – 4:00 pm
Transportation and Logistics II: – Learn how companies move products from factories and fields to customers around the world. Practice applying principles of logistics and supply chain management through case studies and team exercises. (2 credits)
April 1 – June 10 | Tuesdays & Thursdays | 2:00 – 4:00 pm
College 100 – Do you want to go to college? Learn how to set goals, make a career/education plan, and be successful in college. Also learn about financial aid, and more. (1 credit)
April 15, 17, May 6, 8 | 2:00 – 4:00 pm
Thank you, Alaska Airlines, for featuring Port Jobs in your November 2013 in-flight magazine!